By Brett Mullins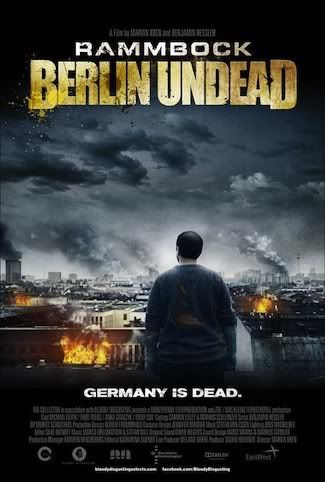 Released: 2010
Directed by Marvin Kren
Contrary to popular thought, not all zombie films are repeats of the same played out storyline. One can attribute this overuse to the multicultural obsession with George A. Romero's numerous
...of the Dead
films. It often takes a foreign film to overcome this norm and produce something even somewhat unique. In
Rammbock's
case, we see a glimpse of the German perspective of the genre.

Michael returns to Berlin in an attempt to reconcile with his ex-girlfriend Gabi. Venturing to her apartment, he discovers a moving crew prying appliances from the walls. Upset and longing to be with his ex, Michael frantically panics and calls her repeatedly. Hearing a scuffle, Michael returns back into the apartment to witness the two movers pitted against one another, one foaming at the mouth. As the two expel the seemingly deranged man from the room, they hear cries ring out in the streets as zombies run rampant. Trapped in Gabi's apartment, Michael and the remaining mover, Harper, are left to fend for themselves.


Rammbock manages to be noteworthy in how ordinary the characters are. Other than being part of this seeming apocalypse, these characters have no special attributes and at no time exhibit super-human powers; the latter trait seems laughable, but it has a habit of creeping up in even the best zombie films. This film is focused largely on the characters and provides little elaboration as to the cause of zombies and other such questions.

Despite handling several ordinary characters, the film is able to cleverly disguise the character development so that it hits the audience all at once. This remains a subtle development; however, it is still enough to allow the audience to care about the characters. This comes late in the film, which is almost too late considering Rammbock has a runtime of around one hour.
Rammbock illustrates that ordinary characters in an ordinary zombie outbreak can still manage to be interesting, when it occurs in Germany at least.
Rating: 7/10