By Cal Wayne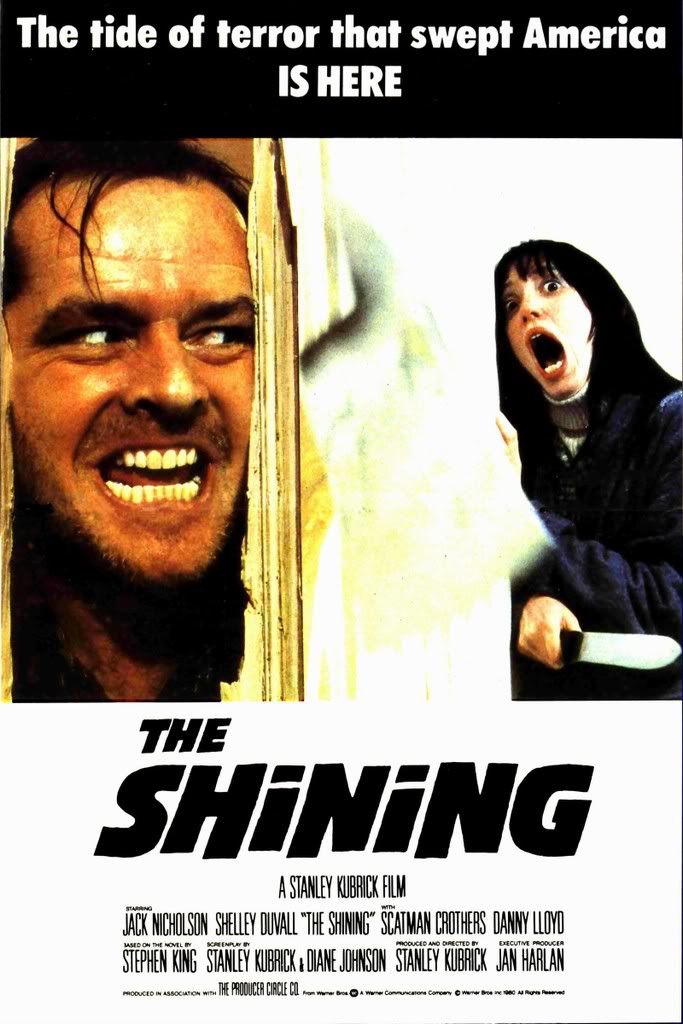 Released: 1980
The Shining
is a psychological horror film directed by Stanley Kubrick (
2001: A Space Odyssey
,
A Clockwork Orange
) and based on the original novel by Stephen King.
The Shining
has retained its reputation as a horror masterpiece since its release in 1980. Playing on many different primal fears and using a variety of different scare tactics, Stanley Kubrick brilliantly navigates his way around the human psyche to deliver a movie that is a kind of awesome.
Jack Torrance is a former school teacher/author who is looking for work after recently moving to Colorado. After finding a job as the caretaker of the overlook hotel, during the winter, Jack moves into the hotel for what would be a five month stay with his wife, Wendy, and his son Danny. As the story progresses, we watch as Jack slowly begins to fall victim to cabin fever, or maybe ghosts, or maybe both (viewer interpretation). As the movie pelts the audience with a slur of ghostly scares, possible metaphors, and progressive insanity (music genre, anyone?), the overall tone of the film begins to turn extremely dark and offers little solace.
Stanley Kubrick can string together a film like nobody's business man. Employing Wendy Carlos and Rachel Elkind, who also did work on
A Clockwork Orange
, Kubrick helped put together an ever-so-fitting score that hits hard from the opening credits to the end of the film. Like many other great horror films,
The Shining
uses its environment, score and character interactions to develop an atmosphere feeling of constant dread rapped in a blanket of trepidation. It's a film that is always changing tunes, whilst maintaining every minute aspect used to create the possibilities for it to do so. Kubrick wasted no time in making a film that hits the ground running while screaming "Fuck you!" at Stephen Kings novel.
Inevitably,
The Shining
will mess with your head, to an extent. Stanley Kubrick did take a few artsy shots at the audience's ability to contemplate abstract meanings and metaphors. I am of the opinion that behind the relentless madness and horror,
The Shining
throws at you, there are many hidden meanings and sub-plots to be thought upon. While
The Shining
isn't my favorite horror movie, it would be hard to deny that it isn't one of the greatest horror films ever made (sort of like
Stairway to Heaven
). I genuinely enjoy watching this movie every chance I get. Stanley Kubrick, Stephen King, props.
Rating: 10/10