By Brett Mullins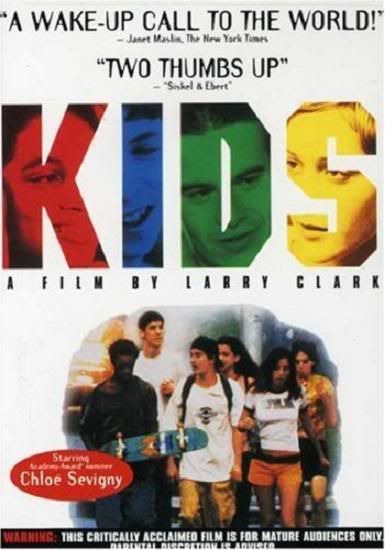 Released: 1995
Larry Clark's directorial debut,
Kids
, is a painfully realistic drama about the lives of poverty stricken youth dwelling in New York City.
Telly (Leo Fitzpatrick) and Casper (Justin Pierce) are two inner city skater kids that have little to no possessions, with the exception of what they can thieve. They spend their days drinking, partying and attempting to hook up with girls in a cycle that's stuck on repeat. We first meet Telly while he's in bed gaining approval to deflower a girl. After he's 'done the deed', he retreats to the street to locate Casper, whose waiting with a cold '40 oz'. The two stroll down the street shouting profanity as Telly details his near-obsession with using virginal girls. The audience immediately gains a perspective on the morals, or lack thereof, of the protagonists of this film.
While the pair entertain a party at a friend's apartment, the film shifts its focus to a group of girls discussing their favorite sexual encounters; some of them have great difficulty recalling how many guys they've been with and when they lost their virginity. One of the girls, Ruby, decides to get tested to confirm that she's clean, bringing her friend Jennie along for emotional support. The two receive their results, and Ruby cheers because her record was 'squeaky clean.' Jennie, however, tested positive for HIV after only sleeping with one guy: Telly.
As Jennie roams the city, in search of her infected lover, the tension and dread slowly build through her racing against the clock before the virus is spread to another girl. To call the premise of this film disturbing would be an understatement. Though it contains a message, this film is not an activist or message driven film; it could be best described as an illustration of the effects on a generation that has no hope for the future. They become wholly involved in their world of scoring drugs and finding parties, and, ultimately, they come to ignore reality. This is illustrated, throughout the film, in that there only a few shots that depict anyone but these teenage children.
The only complaint with the film is in regards to Leo Fitzpatrick. While there is no questioning his acting abilities, he just did not appear to look the part of Telly, a guy who could easily attract girls. To be honest, he was just too goofy and reminded me of McLovin from
Superbad
. For some, this is sure to hamper many of the tense moments of the film.
Kids
proves to be a disturbed tale of the depravity of a hopeless generation, and the impending doom of the spread of HIV amongst the group.
Rating: 7/10